<![if !vml]>

<![endif]>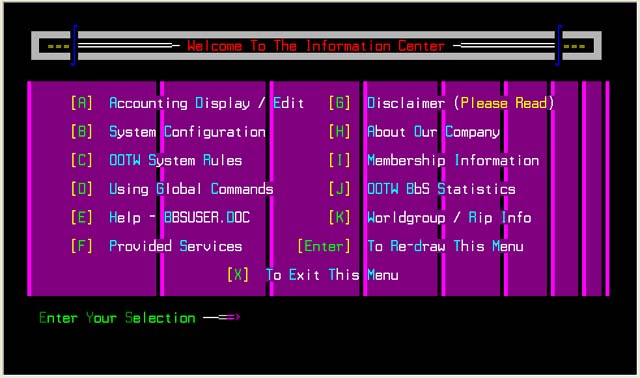 Services Provided by this BBS.
SYSTEM:

OOTW is currenting running WorldGroup v1.01 and supports a WorldGroup
communications program as well as the latest Ripterm.

20 System User License: All Telnet channels are 33.6 baud.


INTERNET SERVICE:
Internet E-mail
IRC - over 3000 chat channels!
Telnet - visit other BBS's from around the world
FTP - Internet file library
Domain lookup and Finger services.


ULTRA GLOBALS:
Create logon, online, and logoff messages. System
display these messages you create when you log-on/off.
Send Global messages, personal Ultragrams, nick-names,
and much much more!


TELECONFERENCE:
Allows users to converse with one another.
MAIN Channel - CHIT CHAT all members.
Game Channel - Play games from Teleconference
Adult Channel - ADULTS ONLY - Adult conversations.
Ansi Channel - Tele-Graphics Chat with visual actions.
Chat Channel - Another area for members to chat.
Create your own PERSONAL ENTER/EXIT message
Start your own PRIVATE CHANNEL!

INFORMATION CENTER:
General information about Membership, Provided Services, Statistics, Rules and Regulations
INTERLINK:
Chat with members belonging to other systems from all across the Untied States


NEWSROOM:
Current events happening here at OOTW!


FORUMS:
This service provides the user with 20 Forums:

ADULT - Adult situations
ASKME - Ask Aunt Mitilda
BASH - Trash thy neighbor - [ADULT]
BBS - Info on other Bulletin Board systems
CPU - Computer Doctor
ENTERTAIN - Actors, movies, videos, theater
EVENT - What is currently happening here at OOTW
FEMALE - Females speak out!
JOKE - Jokes submitted by members
MUSIC - Bands, concerts, CD's, videos
PERSONAL - Personal ads
POEM - Poetry submitted by our members
POLITICS - People in Government, elections, laws
RECIPE - Great cooking recipes for you to try at home
SPORTS - Sports talk!
TWAR - Tradewars 2002
WALL - Great wall of graffiti
WANTED ADDS - Wanted, for sale, services for render
WORLDGROUP - Worldgroup information
WEBSITES - Interesting websites submitted by our members


E-MAIL:
Electronic mail allows you to send private
messages and/or files to other users on the
board or anywhere in the world via Internet.


LIBRARY OF FILES:
16 libraries for all users to download from or upload to.

ADULT - A library containing adult images.
ADULTL - Adult library for the Ladies.
ANSI - Collection of ansi graphics.
CLIPART - A selection of clipart for various applications.
GAMES - A selection of Shareware games.
GRAPHICS - A library containing ans, pcx, bmp and gif graphic files.
INTERNET - Internet software and docs.
MUD - Mud utilities/scripts/maps
OOTWGIF - Gif files of members and friends of OOTW
UPLOAD - A library where members can upload files and contribute to the BBS.
UTILITIES - A selection of DOS utilities.
WAVE - A collection of .WAV files for DOS,
Windows, and OS/2.
WEB-PAGE - Web page utilites and files.
WIN95 - Windows 95 accessories.
WINDOWS - A library containing hundreds of icons, wallpaper, utilities and screen savers.
WINGAMES - A selection of Windows Shareware games.


ACCOUNT DISPLAY/EDIT:
Display or edit your account information as required.


POLLS/QUESTIONNAIRES:
Users get to vote and give their opinions on different issues and current events.


REGISTRY OF USERS:
Provides a list of members, their likes, and a summary
about themselves.


ONLINE GAMES:
See Online Games menu for current list of games offered by the BBS.


Questions?
Questions, comments, or suggestions should be directed to SYSOP,
DELL17, MADDIE, SPARKY or RaiSTLiN.